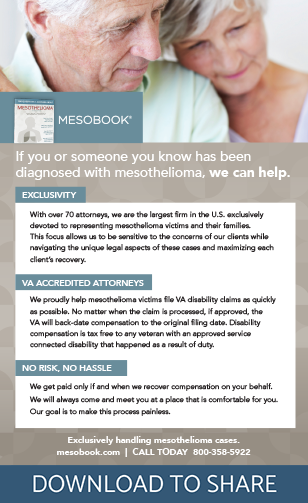 Exclusivity
With over 70 attorneys, we are the largest firm in the U.S. exclusively devoted to representing mesothelioma victims and their families. This focus allows us to be sensitive to the concerns of our clients while navigating the unique legal aspects of these cases and maximizing each client's recovery.
VA Accredited Attorneys
We proudly help mesothelioma victims file VA disability claims as quickly as possible. No matter when the claim is processed, if approved, the VA will back-date compensation to the original filing date. Disability compensation is tax free to any veteran with an approved service connected disability that happened as a result of duty.
No Risk, No Hassle
We get paid only if and when we recover compensation on your behalf. We will always come and meet you at a place that is comfortable for you. Our goal is to make this process painless.
If you or someone you know has been diagnosed with mesothelioma, we can help.